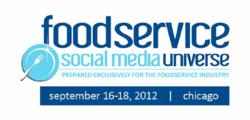 Social media and marketing expert, Jason Falls is the keynote speaker at this year's Foodservice Social Media Universe (#FSMU) Summit at the Swissotel in Chicago on September 16 – 18, 2012. Jason joins a strong lineup of more than 50 industry presenters and panelists exchanging ideas and discussing foodservice social media best practices and, what's next in social media in the foodservice industry.
Jason Falls is one of the most in-demand speakers in the social media, public relations and marketing circuit because of his track performance on delivering value, clever insights and ever-present brutal honesty in his presentation. Falls' opening keynote will address social business strategy development for foodservice that leads to increased communities and sales.
"FSMU is the first and only specialized conference for restaurant and hospitality industry professionals where attendees connect, learn and share social media practices for community management, engagement, measurement and analytics. Many major brands such as Taco Bell, Firehouse Subs, Red Robin, Chow Now, profitstreams.com and hearsaysocial.com had strong participation," said Michael Atkinson, President of FohBoh, Inc., and conference founder. "We're continuing to build on the success of last year and expect more participation from not only restaurants, but foodservice vendors as well" he adds.
Attendees of this conference will include a wide array of human resources, operations, marketing, social media and community managers, finance, real estate, purchasing, media, technology and business development professionals and decision makers for restaurant chains, independent operators, service providers, food manufacturers, media, technology and other hospitality group participants.
"This conference will bring together many different titles and functions that should network together to benchmark the best social media practices that help businesses move forward and stay ahead in this industry," said Kathy Doyle, SVP of Sales and Marketing for NetWorld Alliance, FohBoh's conference partner. "It's the only one of its kind serving the foodservice industry."
Breakout session topics include interpreting social media conversations, the science of social media analytics, the practice of online customer/community and brand management, measuring guest satisfaction and social+mobile marketing campaigns that win. Mobile marketing, of course, will be theme, as the future of mobile tools for restaurants, brand loyalty and writing inspired content for social media channels is a hot topic. The full agenda for FSMU is available on the FSMU website. Attendees may register through the FSMU website.
Foodservice Social Media Universe is presented jointly by FohBoh, Inc., the owner of FohBoh.com, the Restaurant Network®, and NetWorld Alliance, publisher of restaurant media sites and events including FastCasual.com, QSRweb.com, PizzaMarketplace.com; and the Fast Casual Executive Summit. FohBoh is a leading provider of social business social data, customer intelligence products and service solutions to the $1.7 trillion foodservice industry.