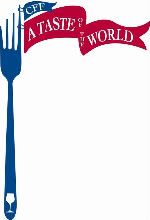 ReMARKable Palate #142: Cystic Fibrosis Taste of the World
I attend a special benefit tasting for the Cystic Fibrosis Foundation, A Taste of the World, at New York's Chelsea Market. Over 25 restaurants and 20 wine and spirits producers gathered to raise money for CF. I speak with some of the chefs and a very unique wine coach.
www.thewinecoach.com
ReMARKable Palate
is a production of
The Culinary Media Network
.
www.culinarymedianetwork.com